Spirit of Cinema Award - Lisa Calan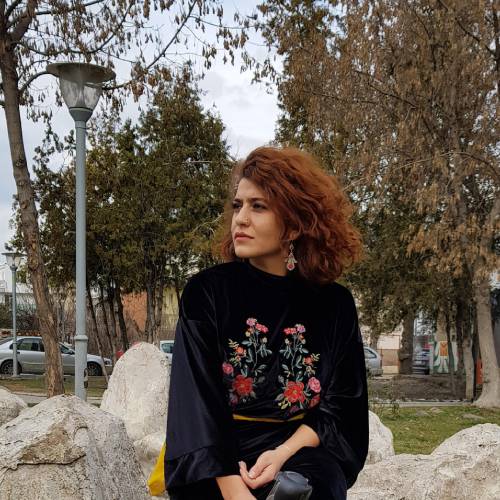 Spirit of Cinema Award - Lisa Calan
The 26 th IFFK is proud to honour Ms Lisa Çalan, a Kurdish filmmaker, who lost both her legs in an ISIS bombing while she was participating in a political rally. She however outlived the terrible attack and has been dedicated to the art of filmmaking. The IFFK gives a big salute to the spirit of resistance and courage by honouring Ms Lisa Çalan.
The Director, in her own words:
I am Lisa Çalan, born on January 12, 1987, in Diyarbakir, as one of the 10 children of a Kurdish and political family. I had a difficult childhood due to the state oppression on the Kurds in Turkey. After graduating from high school, I dropped out of school by refusing education in Turkish, because the Kurds have no right to have education in their mother tongue. I wanted to create films in my mother tongue and become a filmmaker, which I have been interested in since my childhood. For this purpose, I studied cinema at the Aram Tigran City Conservatory, which was established by Diyarbakir Metropolitan Municipality and carries out cultural studies in Kurdish. Unfortunately, the conservatory was closed by the state-assigned mayor in 2016. During the two-year education period including works shot in my mother language, I became closer to the stories of Kurdish geography and my perspective moved forward with the story and struggle of Kurdish women. My desire for cinema got greater with the villages and cities I visited. I started to take part in political documentaries on the forced displacement of the Kurds and the war story with the desire to make this the reality of the world with my camera. Yet again, I became a member of the Middle East Cinema Academy in Diyarbakir and took part in the academys festivals and projects. On June 5, 2015, I lost both my legs as a result of a bomb attack carried out by ISIS which targeted HDPs (Peoples Democratic Party) election rally in Diyarbakir and survived with serious injuries. I had to suspend my cinema-related projects because it took me many years to struggle to walk again. I have been struggling with wrong treatments, complex surgeries and the economic hardship that come with them for six years. I have struggled to stand up, get rid of a wheelchair and make movies again using prosthetic legs, and I continue to do so. In the last six years, I have been working as an activist fighting for justice for disadvantaged groups as well as the ISIS cases.
Despite all these traumatic processes I have been through, I have not given up on fighting and making movies. I take my camera back and make an effort to tell the stories of myself and my people. I recently shot a short film with virtual reality (VR) technique and actually, I became the story that I wanted to tell. Especially now that I am carrying two prosthetic legs (actually they are carrying me), the illusion of feeling that I am in the virtual environment through the five senses, which corresponds to the reality I live in, has paradoxically become my reality. So its like I am having a virtual experience in a real body. Here the subject is me and the object is
FILMOGRAPHY
Defter (Notebook) – Short Movie – Art Director and Voice Technician - 2013 Şewat (Burn) - Short Movie – Voice Technician - 2013 Şeyh Sait İsyanı Belgeseli (Documentary of Sekh Said Uprising)- Voice Technician - 2013 Dengê Kolanan (Voice of Streets) – Documentary – Voice Technician and Editing- Montage - 2013 Nisêbîna Rengîn – Documentary – Assistant Director – 2013 Gece Nöbetçisi (Nights Watch) – Documentary – Co-Director – 2014 Ref (Side) – Series of 13 Episodes – Art Director - 2014 Veşartî (Hidden) - Film – Actress - Art Director - Dubbing - 2014 Zimanê Çiye (The Tongue of the Mountains) – Director / Scriptwriter - 2016 Dilop (Drop) Actress - 2021 Kendini Yaratan Kelebek (The butterfly that creates itself) – Short Movie – Co-Director - 2021 The Photograher (Short Movie, The Me Collective) – Lead Actress and Co-director 2021 Siseban – Director / Scriptwriter – 2022 (The fiction continues...)